Iceland in February - What to See & do
5 minute read28 Jan 2019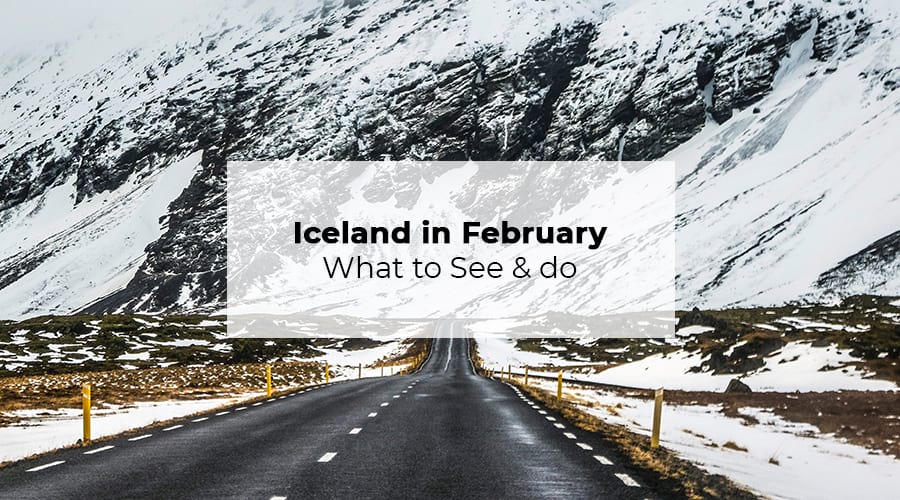 Planning to visit Iceland in February? Then be prepared to be amazed as Iceland turns into a winter wonderland and most of its landscapes and towns are covered in snow. February, the month of love and affection can provide a one-of-a-kind getaway for families and couples. There's plenty of things to do such as:
Experience the Nordic winter
Cosy up under the dazzling Northern Lights
Explore ice caves
Take a dip in the geothermal pools.
February is one of the coldest and darkest months in Iceland. The weather is unpredictable. The possibility of precipitation is quite high during this month. So be ready for snow, rain, sleet or sunshine-sometimes all in one day! Strong winds, storms or blizzards can also be experienced.
The average temperatures are usually between -3 and +3°C (26-37° Fahrenheit) in February. The weather is icier in the north than in the south of the country.
The length of daylight keeps increasing in February. Every single day gains more than 6 minutes of daylight. On February 1st, sunrise is at 10:08 and sunset is at 17:15, which amounts to 7 hours of daylight in total. On the last day of the month, the sunrise is at around 8:39 and the sunset is at around 6:43 that amounts to 10 hours of daylight in total. A gain of 3 hours of daylight happens in the month of February alone.
Before you embark on this exciting journey, you should decide on what to pack for your trip. Dressing in layers is key, so the following essentials are a must:
Hat, scarf & gloves
Wool or thermal underwear
Warm socks
Warm sweater and pants
Waterproof and windproof jacket
Hiking boots
Swimwear
Sunglasses & Sunscreen
Now that you are all packed up, let's explore the best things that Iceland has in store for you in February.
Hunt for the Northern Lights
The month of February is an ideal time to view the northern lights. The best spots to see the lights are outside Reykjavík. Check out the aurora forecast and plan your trip accordingly. You can also make your travel easy by choosing a guidedNorthern Lights tour.
Chilling experience of Ice caving
Ice caving in Iceland provides you with a rare chance of viewing the crystallized beauty of ice caves situated beneath Vatnajökull glacier at close proximity. This activity is exclusive to winters only. These naturally formed ice caves disappear in the spring season. Hence, February is the most suited time to explore them.
Extraordinary Lava caving
A 30-minute drive from Reykjavík brings you to Raufarhólshellir where you can start your exploration of the majestic lava tunnel. Formed from 5000-year-old lava field called Leitahraun, you can view colourful lava formations as well as nature-made ice-sculptures.
Walk through icy blue glaciers
Explore the rugged and frozen world of Sólheimajökull in South Iceland. It is one of the most easily accessible glaciers to reach from Reykjavík. A hike through this glacier will give you the opportunity to view ice formations formed over thousands of years. The glacier is splattered with vivid colours of pristine white, electric blue, and ash black. You can find many crevasses snaking across the surface. There is also a river that runs from the glacier tongue called the Jökulsá á Sólheimasandi.
Dive into the Snorkeling adventure
Silfra, located in Þingvellir National Park is considered amongst the top ten dive sites in the world. Snorkelling in the crystal clear spring-water of this ravine is an unforgettable experience. You can view the colourful underwater world with amazing clarity as the visibility exceeds one hundred meters. So don't miss out on this fascinating geological wonder.
Cherish an unforgettable experience of whale watching at Reykjavík. Spot beautiful sea creatures like Orcas, pilot whales, beaked whales and white-beaked dolphins throughout February.
Rejuvenate in the natural swimming pool
Head to the Secret Lagoon, one of the oldest natural geothermal swimming pools in Iceland and take a relaxing dip in it. Just remember to bring your swimsuit.
Picturesque two-day Snæfellsnes Tour
This two-day tour is perfect to explore the beautiful and dramatic landscapes of the marvelous Snæfellsnes peninsula and the west coast of Iceland. Stop and relax at the Deildartunguhver hot spring area and witness the awe-inspiring waterfalls of Hraunfossar and Barnafoss. You can continue your sightseeing the next day and explore Kirkjufell mountain, the flora and fauna at Snæfellsnes national park, Snæfellsjökull glacier and Vatnshellir cave.
Apart from visiting the famous attractions, you can also enjoy various awesome events in Iceland held each year during February.
Stockfish Film Festival
This non-profit film festival is held late February every year and lasts for eleven days. Upcoming art house films from around the world are showcased here and various Q&A sessions with International filmmakers also take place.
Listíljósi, Art in the Light
Art in the Light, a festival held in Seyðisfjörður, East Iceland every year in the month of February celebrates the return of the sun. The town is brightly lit up and illuminated art installations from international and local artists are displayed all around. You can also enjoy indoor activities such as performances, movies and parties held throughout town.
Reykjavík Bar Summit
Check out this event where bartenders from all over the world gather and compete to determine who is the best. Meet, mingle and party with fellow travellers and enjoy signature cocktails made by the best bars in the world.
With the above-suggested sites and activities, you are bound to have a good time. Visiting Iceland in February will not leave you disappointed as there is so much to see and do. From spellbinding sites to adventurous activities, there is something for everyone in this land of fire and ice.
To make your Icelandic travel comfortable, choose guided tours from Sterna Travel. With the help of our knowledgeable tour guides, you can explore the lengths and breadths of this stunning country with ease. To know more, check our travel packages at Sterna Travel.
Sterna Travel offers guided day tours and Northern lights tours from Harpa Concert Hall downtown Reykjavík for groups and individuals with guidance in English. We are a fully registered travel agency and have been a proud recipient of TripAdvisor's Certif